OCR zones are used for reading text in a specific location on the page and populating index values with that text.
When you place an OCR zone, you must link it to one or more identification zones. The linked identification zones are used to locate the OCR zone on the page.
Linking Zones
Assist uses OCR zones to read text on the page and populate metadata values. To locate those OCR zones, you need to link them to one or more identification zones.
Because the OCR reliability is dependent on both the OCR zones themselves and the identification zones to locate them, it is important that both are properly configured to maximize the chances of successfully locating and reading text in the zones. For better results, observe the following recommendations.
Draw Large Identification Zones
When drawing the identification zones that you will use to anchor your OCR zones, you should use zones that are large enough to differentiate from other areas on the page. If you use a smaller area, like a text label, there is a possibility that it might be confused for a similar piece of text.

In the example above, while the smaller identification zones on the right may can work better or worse depending on the rest of the page, the larger zone on the left is more broadly reliable as a general rule.
Use Static Areas Near the OCR Zones
Because the identification zones are used as reference points for the OCR zones, you should try to use areas of the page that are close to the OCR zones. The zones should also always be in the same position relative to each other.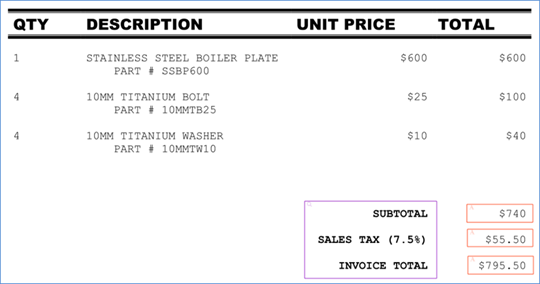 As long as the linked identification zones and OCR zones always appear as a group, they can appear anywhere on the page. This is useful for line items that appear at the end of a list that varies in length, as in the above example.